We will continue to update this program as we confirm tours, workshops, events, and speakers. The Call for Abstracts is now open.

Preliminary Conference Program
We are pleased to post the preliminary program for the 2021 National Conference. As we continue planning for this event, this program may be edited. Please note that conference program times are in Eastern Time.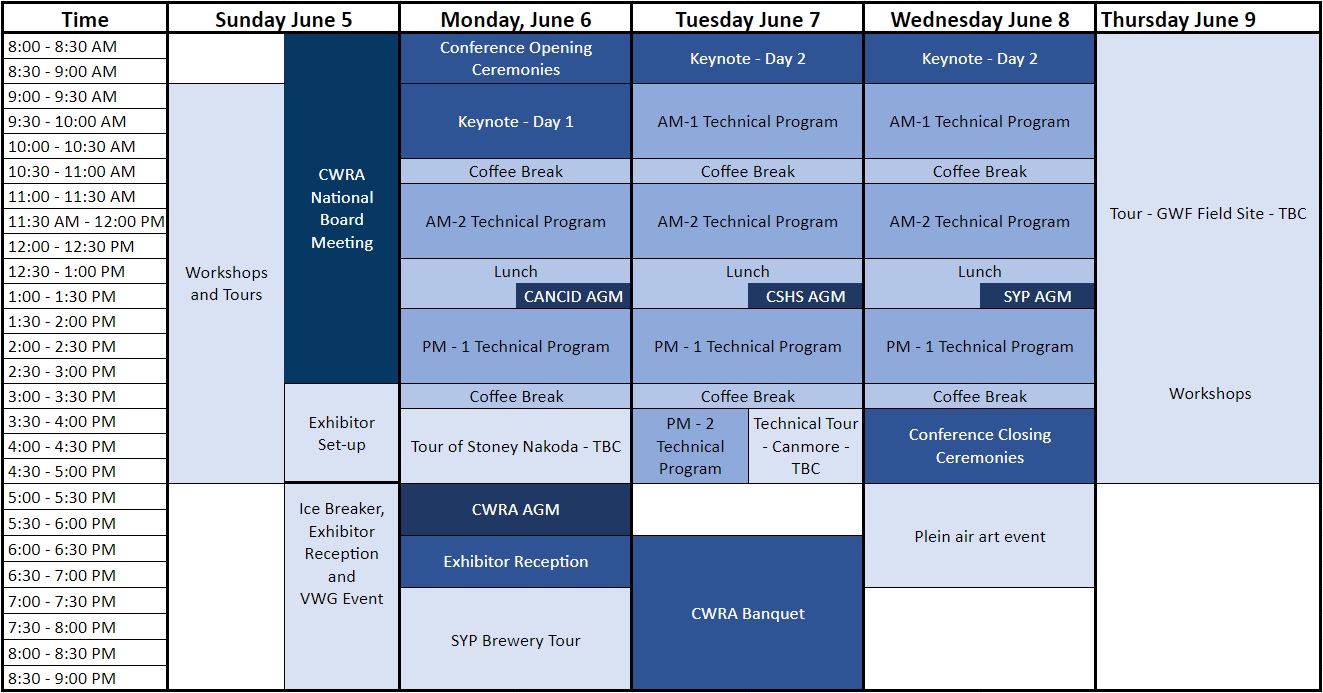 CWRA 2020 – How well is Canada managing its water resources?
Historically, Canada has faced many water-related issues and challenges. Extreme droughts and floods, water quality issues and contamination, water apportionment and competing priorities among water users are just a few examples of these challenges.  Water resources professionals in Canada strive to advance our collective knowledge on how to effectively manage water.
We have learned from our past and have many examples of successes in water management but also, examples of what has not worked well. This conference will provide an opportunity to reflect on our past experiences, discuss best practices and explore where improvements need to be made to ensure greater resiliency and more effective approaches to Canada's future water management.
A more collaborative and adaptive approach– not just within the water resources sector but across all society–is required to tackle significant issues facing the water sector including climate change, extreme meteorological events, water pollution and Indigenous water rights.
This conference will be an opportunity for participants to present on innovative tools and new technologies, examples of working collaboratively across disciplines, applying integrated and adaptive approaches, improving standards and guidelines, as well as innovative governance models and policies that support effective water management.
Join us in Kenora, Ontario, for an exciting dialogue on how lessons learned from the past and present approaches can help shape future water management decisions in Canada.
Welcome to the Program page for the 72nd CWRA National Conference. Below you will find links to key parts of our conference including calls for sessions, calls for abstracts, and calls for tours.
If you have not been to a CWRA National Conference or would like a reminder of what our conferences are like, click on the links below to download the programs from 2018 and 2017.
WORKSHOP AND TOUR REGISTRATION IS STILL OPEN!
(click image to download)
Call for Abstracts
The Committee is seeking abstracts to present at the conference and encourage all disciplines to join us as we learn about responsible and effective water resource management in Canada.  Please note that the suggested topics are intended to be representative, not exhaustive.
Possible topics under these themes include:
First Nations and Indigenous roles in water governance and knowledge
Cross-sector collaboration in water
Water apportionment and Water Security
Collaborative leadership – does it exist in water management in Canada?
Flood management – from mapping floodplains to insuring the flooded
Contaminants of emerging concern
Public-Private Partnerships in water management
Engaging and empowering citizens in collaborative water management
Adaptation and building resilience in neighbourhoods, cities, and watersheds
Advances in watershed management including cumulative effects assessment
Sustainability Goals – Is Canada on track for water ?
Advances in wastewater treatment
Risk Communication in the Water Industry
DEADLINE: FEBRUARY 10, 2019
If you require more information, please contact Conference.Program@CWRA.org.