CWRA 2024 Conference Abstract Submission
The Canadian Water Resources Association's 2024 Conference Planning Committee is inviting you to help us create a diverse and interesting conference program by submitting an abstract (or several!). Abstracts are being accepted for both oral and poster presentations in over 30 technical sessions. 
While all abstracts will be considered, it may not be possible to accommodate all submitted abstracts in the program. If an abstract is not selected for the desired session, it may be slotted into an alternate session at the program committee's discretion. 
Abstracts are to be submitted no later than January 31, 2024.
Do not submit an abstract on behalf of anyone other than yourself.  
If your abstract is accepted but you are not selected to present an oral presentation, you will be offered a poster presentation opportunity if space allows.
Detailed notifications of acceptance and guidelines for oral presentations and posters will be sent by email in March 2024. At this time, it is anticipated that most oral presentations will be 15 minutes, including a few minutes for questions.
Presenting authors of both oral presentations and posters must register for the conference and are required to pay the registration fee and cover all other expenses involved in attending the conference. Your presentation or poster will be withdrawn from the conference if you do not register.
Abstracts are being accepted for the following sessions:
Wetland values, what they provide to agriculture, industry, and society.

Advances in Urban Hydrology

3D CFD Modeling for Water Resources Engineering

State of Watershed Reporting

Sustainability, Resiliency, and Decision-Making in Transboundary Waters

Transboundary Waters – future challenges, needs and potential

Climate Change Impacts on Freshwater Availability

Flood Risk Assessment and Mitigation in the Context of Climate Change

Hydrological Modelling

Hydrological Monitoring

The Future of Canada's Inland Deltas

Flood Hazard Mapping – Overview of federal flood programs and initiatives

Flood Hazard Mapping – Indigenous Knowledge

Flood Hazard Mapping – Uncertain water future

Flood Hazard Mapping – Science and Policy

Flood Hazard Mapping – Technology, Data and Analytics

Water management on the Prairies: Grand challenges and solutions

Water Quality and Hydrology: Lessons learned from collaborative partnerships across disciplines 

Advancements in Operational Hydrological Forecasting: Perspectives and Innovations

Advancing the integration of climate, surface water, and groundwater systems

Use of R in Canadian hydrology

Navigating Hydrological Challenges through Transformative Strategies in Community Hydrology Modelling

Advances in Machine Learning and Artificial Intelligence in Water Resource Management

Advances and Applications in Remote Sensing for Water Resource Management

Citizen Science 

Indigenous Knowledge 

Watershed Stewardship 

Science and Policy 

Water Philosophy, Ethics, and Values 

Stream Restoration and/or Fish Enhancement

Developements in Irrigation Technology 

Agricaltural Water Management in Canada under a Climate Change
CWRA2024 is now accepting Session and Workshop Proposals that illustrate practical actions taken to address water management challenges in Canada.  The sessions and workshops should emphasize the linkage between research and practice and the benefits of a collective knowledge approach.
Sessions could include presentations on case studies, projects, research, or lessons learned that will interest public and private sector groups including academics, consultants, government representatives, environmental groups, landowners, watershed organizations and industry stakeholders.  A panel or roundtable discussion may be incorporated into the session program.
This open call will close on November 19. Additional details, including links to the form to be used for submissions can be found in the PDF version of the Call for sessions, which you can download at the link below. Any questions related to the call can be directed to CWRA2024@cwra.org.
Possible session and workshop themes may include:
i. Citizen Science – What it is and how can it be levered to gain knowledge and understanding that can shape policy development.
ii. Indigenous Knowledge – The value of water from a rights holder perspective and the path forward to ingrain Indigenous knowledge in decisions making.
iii. Watershed Stewardship – Examples of best practices and challenges for local level approaches to water management and policy development (PARCS, Watershed Councils, Lake Winnipeg, Partners For the Saskatchewan River Basin, etc.).
iv. An Uncertain Water Future – What may be the water and water related future that will influence development, challenge sustainability, and support or threaten food, energy, and environmental security from a local, national, and global perspective.
v. Science and Policy – How will institutional reform, such as the newly created Canada Water Agency, be the framework for effectively linking science, policy, and actions.
vi. The Next Generation of Water Keepers – How will the next generation of water specialists, scientists, and activists be developed.
vii. Drainage and Wetlands – Can the two exist under the same policy framework and what are the reasons and implications for cohabitation.
viii. Transboundary Water – Actions taken to address transboundary water challenges considering the shared common good.
ix. Technologies and Analytics – How will space-based technologies, remote sensing, machine learning, artificial intelligence, and social media contribute to wise water management.
x. Water Philosophy, Ethics, and Values – Water ideology from an ecological, food security, energy security, rights holders, and common good perspective.
xi. Canadian Prairie Agriculture – Innovations in adapting to climate variability for food security.
xii. Policy and Actionable Response to Climate Variability – Examples of actions taken to build climate resilience, adaptation, and mitigation.
Read more about the requirements for abstract submission and submit your abstracts here on our website.
In support of the conference theme and key focuses, please see below for a list of subthemes to help in categorizing abstract submissions. In the abstract submission form, you can indicate multiple categories, if your abstract fits under more than one. This list should not be considered limiting for the topic of your abstract – for abstracts that do not fit into these topic categories, there is an 'other' option on the form for you to enter your subtheme. The conference program committee will determine final session themes from the submissions they receive.
Indigenous knowledge, perspectives, and approaches (e.g., Two-Eyed Seeing)
Indigenous water rights and management
Nature-based solutions
Stormwater management: traditional and alternative approaches (e.g., LID)
Flood mapping, management, and mitigation
Flood forecasting and response
Water availability and scarcity
Climate change adaptation in water resources
Aquatic species at risk
Coastal/freshwater interfaces and interactions
Surface water/groundwater interactions
Transboundary water management
Agricultural water use
Advancements in Science and Hydrology
Innovative tools and technologies
Water rights, policy, and governance
Water management in the Canadian North
Water quality and ecosystem health
Hydrologic alteration: dams and diversions
Experiences, lessons, and successes in collaboration & partnerships
The Call for Abstracts for CWRA 2023 is now closed. Thank you for all your submissions!
All participants of #CWRA2023 are expected to follow and uphold the rules described in the Code Of Conduct. To view the Code Of Conduct, please click the button below.
Please see below for both an overview of the overall conference program as well as a breakdown of the technical sessions and presentations.
In the lead-up to the conference, minor adjustments to the program may still be necessary as a result of changes to registrations or otherwise – in these cases, we will contact speakers directly with any updates to the timing of their specific presentations. We encourage all attendees to continue monitoring this page for potential updates as we approach the conference dates.
You can download the PDF version of this information by clicking the button below.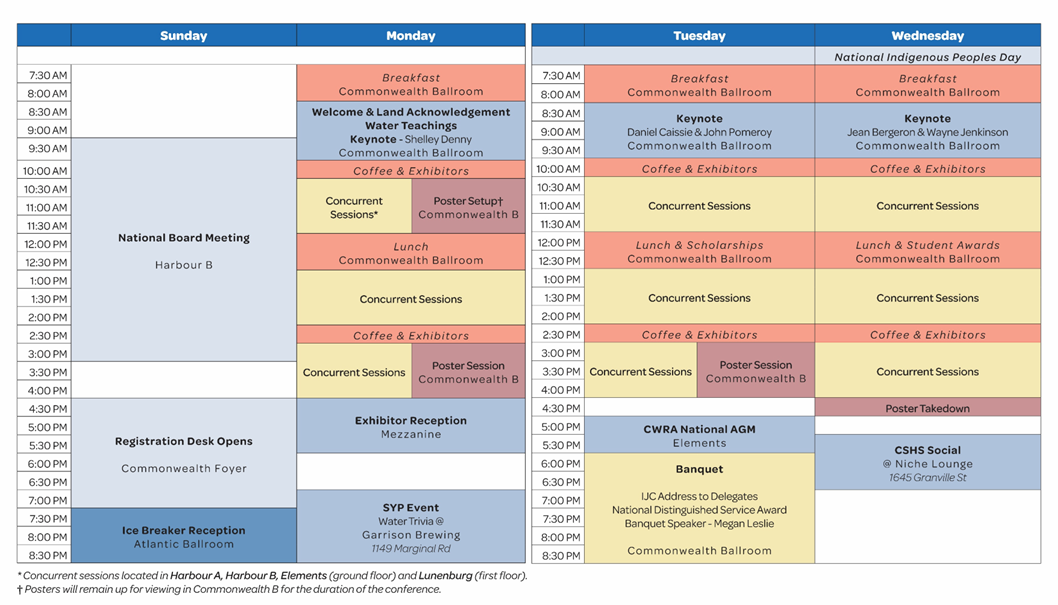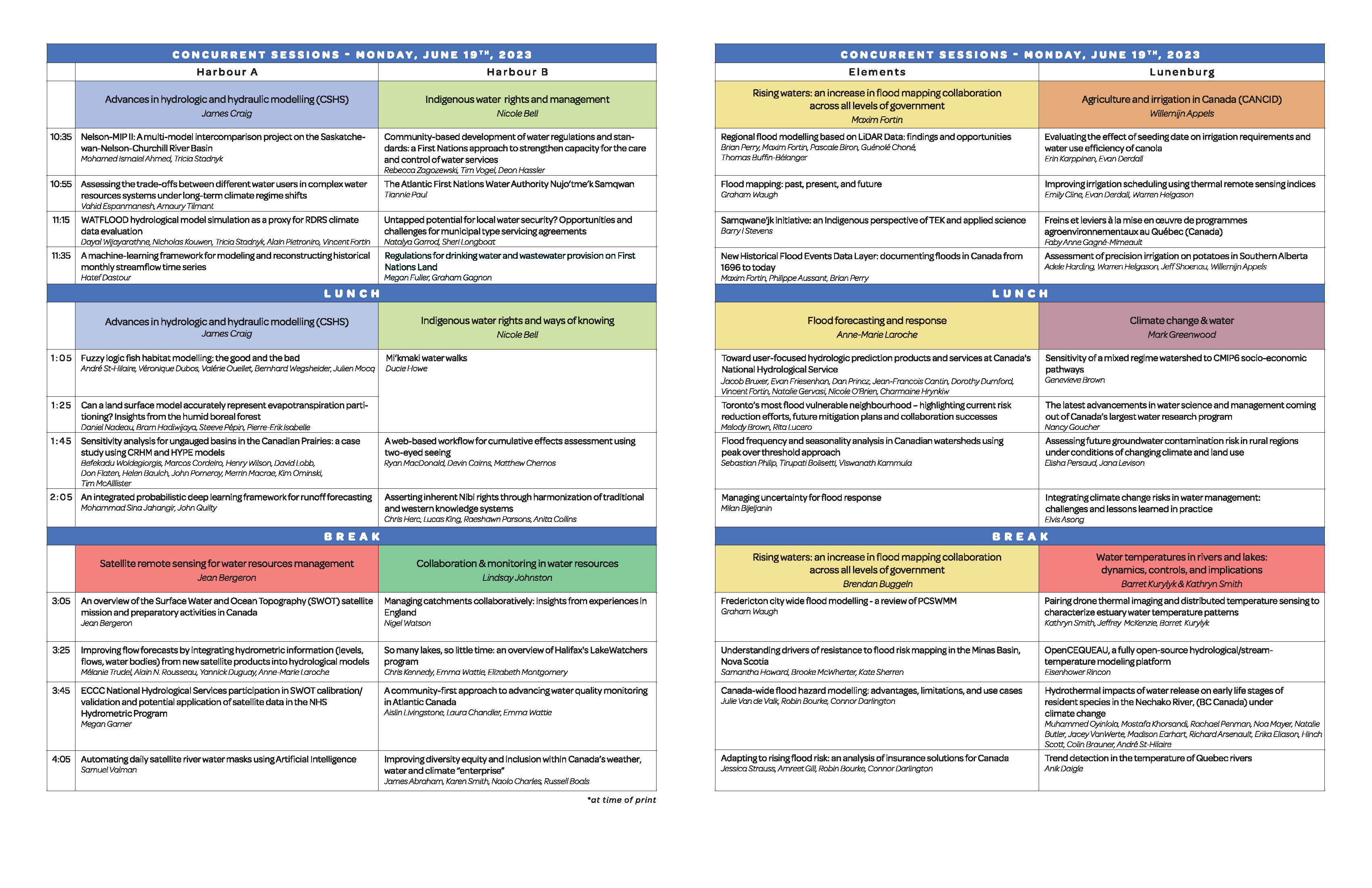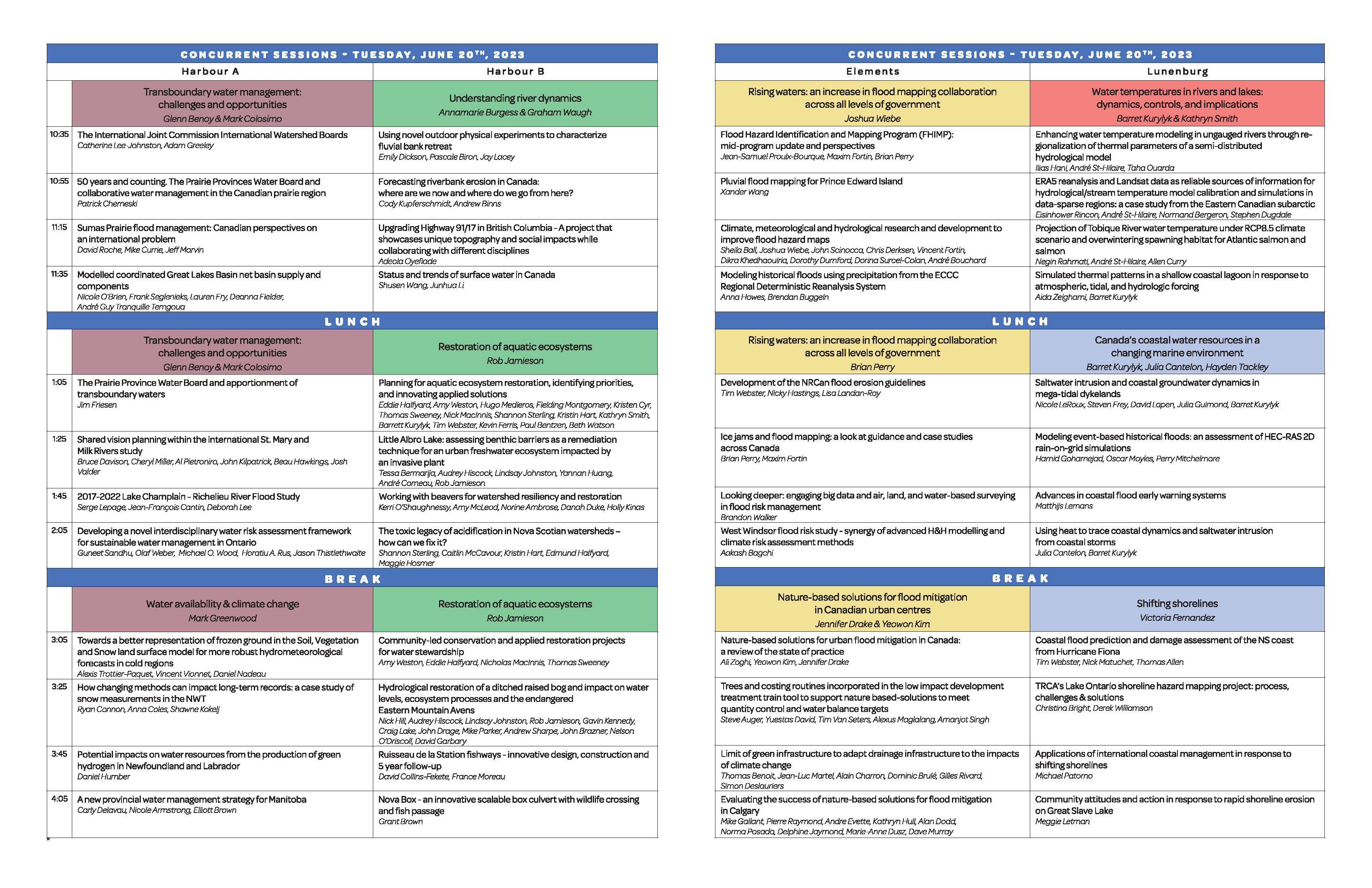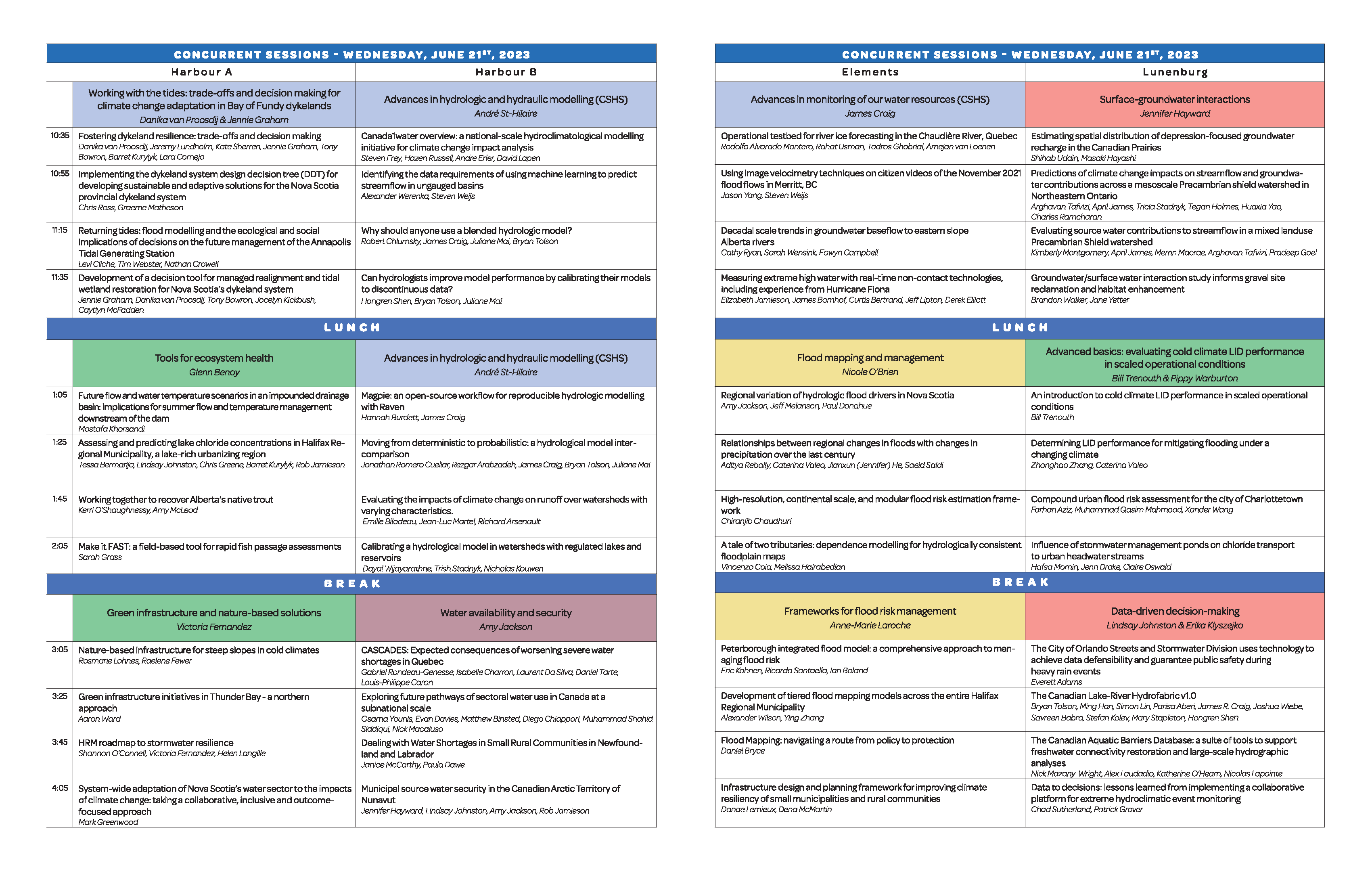 Presentation Inquiry Contact Information:
Oral Presentation Contact:
Andrew Chan
achan@matrix-solutions.com
Poster Presentation Contact:
Kelly Munkittrick
kelly.munkittrick@ucalgary.ca