Call to action: become a sponsor/exhibitor. Include any additional information that people might need to know (e.g. no more sponsorship opportunities)
More information about Sponsorship will be posted shortly.
Become a CWRA 2023 Conference Sponsor or Exhibitor!
Note saying that the general info is below but additional details can be found in the prospectus (linked with a button)
Sponsorship and exhibitor details and benefits are summarized in the table below, and additional details are provided in the Conference Prospectus.
Overview of sponsor/exhibitor benefits (as a table typically)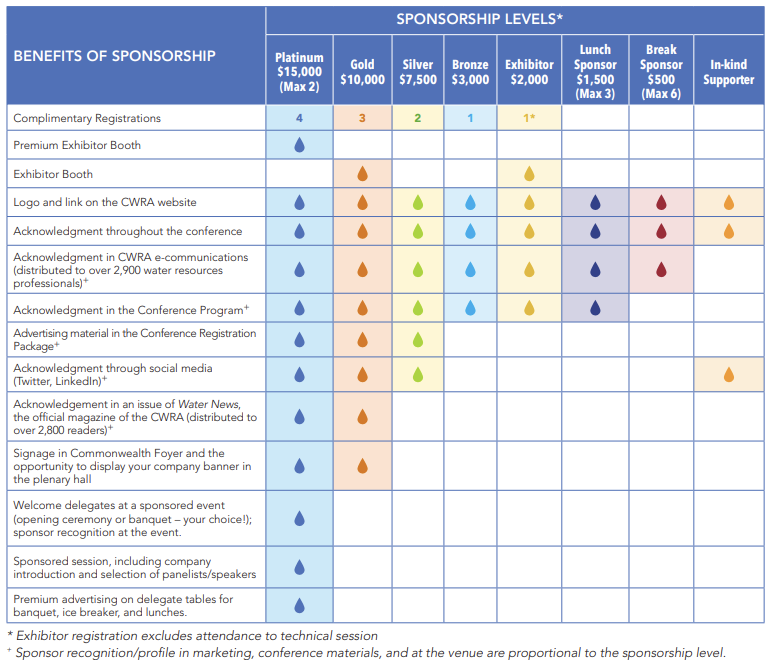 Note re. indigenous inclusion efforts for the conference
Indigenous Inclusion
In recognition of the importance of Truth and Reconciliation in Canada, the 2023 CWRA National conference is directing 10% of all sponsorship proceeds to Indigenous Inclusion activities and themes throughout the conference. CWRA recognizes the need, value and importance gained in having all voices at the table in an inclusive space. Funds will support Indigenous speakers, travel costs and events featuring Indigenous performers and Knowledge Keepers, and activities that support the participation and attendance of Indigenous people.
Thank sponsors and add ALL the logos (link the home page for each sponsor to the image)
Thank exhibitors and add ALL the logos (link the home page for each sponsor to the image)
Thanks to our Exhibitors!